The 50 Greatest Female Characters in Video Game History
Please note that this page is only here for archiving purposes. The original article originally resided at TomsGames.Com, and was written by Rob Wright on February 20th, 2007. I do not claim any rights on this page. Save for some additional images and scripted additions, no modifications on the original text has been made.
Aerith/Aeris Gainsborough, Final Fantasy VII And More
There are almost too many Final Fantasy characters to count, but one of the most popular figures in the series is Aerith Gainsborough. She makes her first appearance as the heroine of Final Fantasy VII, arguably the greatest and most influential FF title. [SPOILER ALERT!] Aerith rises from a being a simple flower girl to a mysterious young woman with powerful magic abilities. Her heroic sacrifice and death in FF7 is one of the most powerful and memorable scenes of the Final Fantasy series - or any other game, for that matter.
Pros: She's as pure-hearted and soulful as any hero, and she's got the outer beauty to match the inner beauty.
Cons: Well, she's dead, so that's a major obstacle. However, there are rumours that she will make a comeback.
Should be Played By: Mandy Moore and Mena Suvari have supplied voice acting for Aerith, but I think Jena Malone ("Donnie Darko") would be the perfect choice.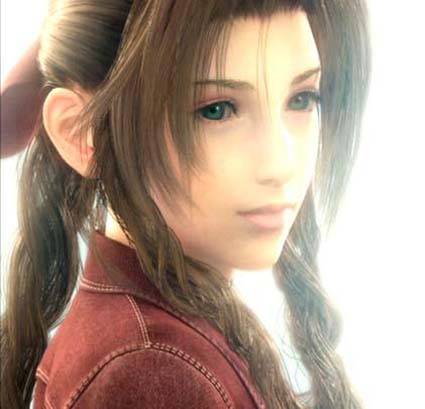 Aerith Gainsborough, arguably the most treasured Final Fantasy character
Tifa Lockhart, Final Fantasy VII And More
The other female lead of Final Fantasy VII, Tifa Lockhart is a tough, mini-skirt wearing bartender turned martial arts expert who becomes a resistance fighter with the group Avalanche. She's a lifelong friend of Cloud Strife, the male hero of FF7, and at times competes for his affections with Aerith Gainsborough. A fearsome fighter who is at times emotionally insecure, Tifa is one of the more richly drawn and intricate female characters around.
Pros: She runs her own bar called "7th Heaven," wears sultry outfits and can pretty much beat up anybody.
Cons: Tifa tends to keep her feelings bottled up and has trouble expressing herself without her fists.
Should be Played By: Rachel Leigh Cook, who provided Tifa's voice in Kingdom Hearts and bears a strong resemblance to the character.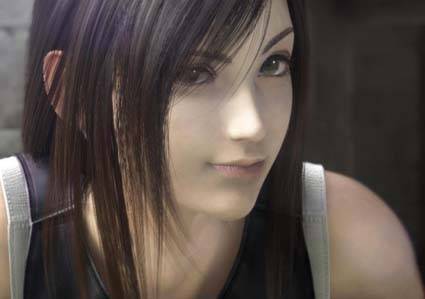 Tifa Lockhart, the bartender turned fearless fighter in Final Fantasy VII